School, by its very definition, is meant to teach of a set of skills that you acquire either for recreation or, as in most cases, to help kick off or propel your career. For makeup artists, this is no different. However, picking the best online makeup school is a pretty difficult thing to do if you don't know what to look for.
As such, here is a compiled list of factors you should consider when selecting a program, so you'll be certain about your decision before enrolling in an online makeup school.
Do I Really Need to Do a Course?
This is the first question you're going to have to ask yourself. Before you get started, know that completing a makeup course doesn't magically make you employable, It all boils down to how badly you want it and how hard you're willing to work to get as good as you can.
In addition to the iffy job security, lots of pundits advise against taking makeup courses, for various reasons, one of which is mentioned above. It will mostly depend on your pace – how fast can you digest information and how fast can you retain it, because even if you attend one of the most accredited online makeup schools, there still has to be a bit of input at your end.

How To Choose a Makeup Course
Check their reputation
Accreditation is something that happens every few years to make sure schools are up to standards and teach what people want and need to learn. Afterwards, a report is presented to the school about what areas what they should improve on.
If it fails to meet the standards, it has its accreditation revoked until the standards are met. An independent review of the school is a great thing to have, and you probably shouldn't attend a school that doesn't meet the standards, but that doesn't necessarily mean it will be right for you.
Qualification and Certificates
Normally, certificates and qualifications you get from a makeup school will have little to impact on your ability to do your job. Not exactly anyway. Not that they aren't important, because most people who wish to work in the beauty sector need to have some qualifications in beauty therapy or at the very least cosmetology.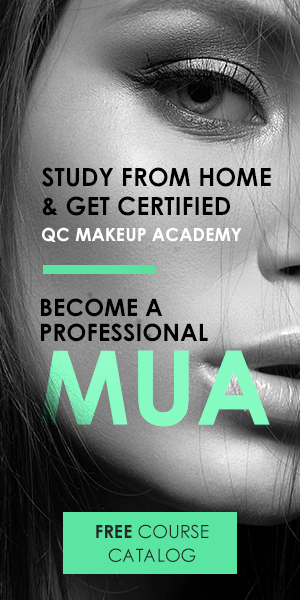 In some countries and states, they are even required before you get your license. Almost no online makeup school will fail people, and this only serves to release not-so-good makeup artists into the world. A few, do, though, and advise you on the possibility of removal (and reimbursement) if you don't have the right aptitude.
However, don't let a school be your first pick just because you could potentially get a qualification at the end of it. If you have two schools that are equally impressive in your book, then go for the one with the better qualifications.
If the qualifications they offer are different, go with your intuition, weigh them against each other and go for whichever school is either more accredited or seems likely to offer more value for your money.
Look at their Curriculum
Like any school, makeup schools are businesses and are out to make a profit. Don't be drawn in by the flashy photos and tutorials they seem to offer. Scrutinize everything they say. Look at the curriculum: how your money is spent, what equipment do they offer, if any, how long will training go for, and so on.
If you're taking your first course, it will probably just be an elementary course, which should lay a good foundation by teaching the basic essential elements of makeup, giving you lots of time to practice.
Student-Friendly Pacing
Everyone is different, and being different, everyone has a different learning pace. The thing about most schools, though, is that they tend to cram as much as they can into as small a timespan as can fit.
Some accredited online makeup schools may be exceptions, though. Your ability to capture and store information is essential to the kind of school you choose. If you're not a fast learner, the best option for you would be a long, slow-paced course.
Keep in mind that everyone starts off from scratch, and practice is the only true way to get better at being a good makeup artist. Find willing friends and practice on them, have them give you some feedback, so you can understand what it's like to work with a client.
No makeup artist school online can give you the physical practice you'll need to do in order to get better at your craft, a majority part of which is knowing how to deal with people. There, you're on your own, and the more you practice, the better you get.
Sense of Community
The best kind of online makeup courses are those that are made with a sense of community in mind. An online class should be made to feel like a real life one would, with different people from all walks of life.
You, as a student, should be free to interact with your tutor and their peers after the class in order to create a friendly atmosphere. This sense of community can be created in one of the several ways, including having an off-topic discussion board for after the class, where students can interact and talk about pretty much anything – right from sports to food.
You could also be encouraged to interact with various graphics online to practice your learnt or to-be-learnt skills, where you collaborate with fellow classmates or ask for help when the class instructor isn't available.
Check Out the Tutors
A great makeup artist school online, like pretty much any course taught at the best online makeup school, should be taught by someone who has lots of experience in their field. This includes prior experience teaching and recently completed work.
Most times, the larger the portfolio, the better, as it's a great pointer towards the amount of experience the tutor has. Once again, though, this shouldn't be your only guide towards deciding whether the tutor is good or not.
Jumping back onto the point about qualifications, techniques and technologies change all the time, and just because someone has a certificate does not imply they know what they are doing.
Look up the tutors online, visit their portfolios, stalk them on their Instagram, Twitter and Youtube handles (not the personal handles, though, just their work-related channels) if they have one. Try and look for as much as you can regarding their body of work. Once again, speaking to former students will help solidify their reputations.
If you happen to hit a dead end, you can even request to speak to the tutors, either online or through their social media platforms. Ask them if they are okay with you asking work-related questions, which should include what they teach, what kind of assignments they give and how your overall performance is decided
Flexible Hours
If you're signing up for a makeup school as a part-time assignment or maybe you want to quit your regular job and trade it for something you admire more, you are going to need to be able to schedule your makeup training sessions.
The hours the school offers should be flexible, such that you're able to attend the event at your own time, rather than times that will conscribe you to within set limits. This should prevent any sort of clashes between your regular life and your new course.
Additionally, if you plan on attending an online makeup school that's internationally based, you may not be able to attend the live events, because of the time difference, so ask them if they archive their classes or offer them at different times that will suit you.
Case-in-point: QC Makeup Academy: Best Online Makeup School
Every once in a while, you run into a situation that either leads to a giant facepalm or a sudden stroke of the euphoria of a eureka moment. Coming across QC Makeup Academy is a little bit of both.
They offer fantastic tools for direct hands-on mastery of makeup artistry and an adequate amount of assignments you can practice on your friends. Kind of like a practice session, only this time, run by you.
Not only does it meet all the specifications above, it doubles up on some of them, offering you a fair amount of flexibility – in terms of hours, where you can fit everything into your schedule without having to be a bother, and the benefit of a tutor who will be constantly available to review your work and for any sorts of enquiries during or after class.
Every subscription comes with a fair amount of equipment, which, upon arrival sets the precedence for whether you wish to continue with the course or not. In a rare treat of generosity, you have 21 days to pull out of the course if you decide the course isn't for you and you get a full reimbursement of every nickel you paid in fees.