It is many peoples dream to become a makeup artist, being able to do what you love while making people look beautiful will not only put a smile on your face but a smile on everyone you work with as well.
Becoming a makeup artist though requires a lot of hard work and dedication. Different states have different laws on whether you need a license or not, but almost always you won't need one for what you want to do. Having certification though can be important, and a lot of beauty schools and online courses can give you this.
There are many different paths that can be taken, but it's important to have a plan in mind of what you want to achieve. A lot of the time that involves hard work and hopefully a bit of luck along the way. Doing your dream job is something everyone wants.
Once you have been certified then you can either apply for jobs to become an employed makeup artist, become an assistant to a makeup artist or forge your own path and become self-employed. Being self-employed can be challenging, but the most rewarding, both personally and financially. Over time you can develop your skills and become an expert in the field.
At this stage, you might have many questions on exactly how to become a makeup artist, so here we answer those questions to leave you confident in pursuing your career as a makeup artist.
How to become a makeup artist for celebrities
One of the reasons you may be looking to becoming a makeup artist is to do the makeup of some of the biggest celebrities in the world. Unfortunately, though there isn't a job of 'celebrity makeup artist' that you can apply for so you have to go via other means to achieve your goal, working your way up until you can get such clients.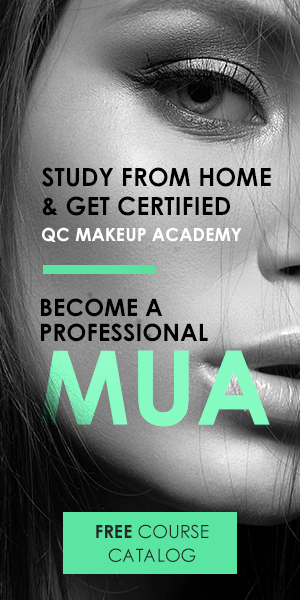 Getting yourself out there is important by marketing and advertising yourself. Getting work in fashion shows or television companies can be a great way to get your foot in the door and introduce yourself to new celebrities. People are particular about their makeup, and if you can deliver them exactly what you need then word is going to get around about how good you are.
All of this takes a lot of hard work, but also a lot of interpersonal skills. You'd have to learn how to treat everyone differently and be able to handle big personalities. If you can get yourself in the right circles and network with the right people there's no reason why you couldn't become a makeup artist for celebrities.
How to become a makeup artist online
You might be working full-time or are a single mum who can't find the time to attend college, whatever your reason for not being able to go into a classroom, there are opportunities out there to live your dream career. There are websites such as QC Makeup Academy who offer a variety of different courses to suit any of your needs.
These courses are taught by professionals who have been there and done it in the makeup industry. There will be support and guidance available to anyone wishing to pursue this career and certificates will be given once you complete the course. All this can be done from your own home and at a time to suit you. Even if it's late at night you'll have access to a whole range of different course materials and video, and can submit your coursework at any time of the day.
Thankfully the internet has given the opportunity for people to have a second chance if they made the wrong choices at school. Using an online course can give those willing to put in the hard work a platform to improve their career prospects. Once you have completed your course then you take those skills into the real world and start earning the income you ant doing the career that you love.
How to become a successful makeup artist
As with any industry, the first ingredient to becoming a successful makeup artist is hard work. Obviously, you need to be put on the right track before you can think about working hard. There are a number of opportunities to become a makeup artist. A lot of people go straight from school to complete a qualification; others will attend a beauty school while others will complete their course online.
Once you have found that path then you need to work hard in order to achieve everything that you want to achieve by completing your certificate or qualification to the highest standard possible. Once you have done this then you can either find someone to employ you or go into the world of being self-employed.
It's at this point where you need to keep practicing your skills in order to become a better makeup artist and gain even more experience. Hopefully, by this stage, you are either working your way up a company or getting higher paying clients through your self-employment. It's always a good idea to market yourself and get your work out there. Setting up a website and/or social media pages to showcase your portfolio can be a great step.
What kind of education do you need to become a makeup artist?
None! Well, not any formal education at least. Firstly you could become self-taught by practicing by looking at clips on the internet, but this is fraught with dangers as you won't have access to enough tutoring and there won't be a support network around to give you any help and guidance, especially if anything was to go wrong.
Going to school is another option, but one which is closed to many after they get past a certain age. The reality is that you don't actually have to have any formal qualifications or certifications like an electrician would for example as the job isn't dangerous. You do to be a cosmetologist which is slightly different, and there are a few states that will require you to have a license if you work in a salon, so it's always important to check first.
What can be helpful though is getting certified that you have passed a course. This will let any prospective clients know that you have the skills needed. Certificates can be a great way to get more customers. So while you don't need any formal education, getting educated from the experts in something like an online course is for the best.
How to become a certified makeup artist
There are numerous different ways to become a 'certified' makeup artist, but the reality is that you don't need any formal qualification or license to become a makeup artist, except for a few small exceptions in a handful of states. Becoming certified though will open up doors that can kick-start your makeup artist career.
If you go to school, beauty class or do an online course then you will receive a certificate to prove that you completed the course to the standard that they set. Each type of course will have their own standard. The bigger the company or the course, then the more reputable your certificate will be.
Using one of the biggest and most well-known online courses such as the QC Makeup Academy will give you a certification that people can trust. Having a certification from such a source will let people know that you know what you're doing. Getting a certificate from an unknown source will make people doubt whether you're actually good enough to do the work they want.
How long does it take to become a certified makeup artist?
How long becoming a makeup artist takes depends on a number of factors. If you're completing an online course then this could take just a couple of months, depending on how much time you want to invest in it each day. If you dedicate enough time then this would be a very quick process. On the other side, if you don't have many hours free in the day, you can spread it over a longer time.
If you want to take the extra step and become a licensed cosmetologist then this will take longer as this is an official licensing course which will allow you to do skin care, nails and hair. These courses when done full-time can take around 9-12 months and that would be doubled if you were doing it part-time.
When you have become certified then you will want to make sure that you get the experience required. Looking out for an apprenticeship or formal training will help develop you as a makeup artist. Once you have become certified, then you want to also make sure that you are putting in the hours to perfect your craft.
How much does it cost to go to school to be a makeup artist?
How much it costs depends on the type of course that you do and whether it is online or offline. With these types of courses, it isn't a case of a company offering just one course for one set fee. For a physical school, the costs can be very expensive indeed with courses that can be up to $25,000, with most being just over $10,000.
That is a lot of money to complete a course, and often you won't have the funds of time to complete a course like that. If you do have the money, then great as they can be very effective in quickly teaching you everything you need to know about makeup.
If you can't afford those types of fees, then there are alternatives such as paying for an online course. Depending on the type of course you're taking these can range from about $500 to over $1,000, but are a lot cheaper than going to be business school and you are able to spread the cost over a good amount of time. You'll gain the same amount of knowledge, but won't have to pay out as much money.
How to become a makeup artist without going to school
Thankfully these days' going to school isn't a must when it comes to becoming a makeup artist. In the modern society it can often feel like your moment has passed if you didn't get the qualification that you want when you were at school. Once you have responsibilities and bills to pay, then it can be too difficult to find the time.
Thankfully there are numerous ways to become a makeup artist without the need of doing to school, and can even become one from the comfort of your own home. Completing an online course will mean that you can complete all the aspects of the course at a time to suit you. Being a makeup artist without going to a school is now easier, and much cheaper as well.
Once you have passed such a course, you can then apply for jobs in the makeup industry or become self-employed. At the start you may want to do it in your spare time, and then once you have built up a good amount of clients you can make the leap of faith and become self-employed full-time doing the job that you love. You can do all of this without the need to ever even leave your own home.
How many hours a week do makeup artists work?
The biggest things that will affect the hours that you work is if you are either employed by a company or self-employed. If you're employed then the hours will be set out in your contract and you will be paid a standard amount. This amount of hours will vary depending on the type of role, but won't be excessive as it'll be within the standard amount expected.
If you're self-employed then you'll need to earn enough to at least cover your bills, no matter how many hours that is. When you start off as self-employed it is likely that you will have to work for many hours in order to get your business off the ground and get that money coming in. Once you're established then you can have more of an idea of how many hours you need to put in.
With being self-employed there are other considerations like marketing and dealing with your diary. These all take time out of your day, but thankfully most of these extra tasks can be done from the comfort of your own home. If you're working for yourself though then you have to expect to be working the likes of 12 hour days or more, eventually as your expertise increases, this number will reduce.
What type of skills do you need to be a makeup artist?
When it comes to being a makeup artist you need a lot of skills, and not all of them are related to makeup. Clearly to be a good makeup artist then you have to have the talent, there's a reason that the word artist is in the title. Having a steady hand, knowing what would suit each individual and knowing your products inside out are all vital.
Having that natural ability to know which product would suit which person will help you become a well-respected makeup artist. What is also important is understanding what the client wants, as sometimes the directions may be unclear so you need to be able to work with them. You'll need to use your creativity and imagination to create your art, which is probably the best part of the role. Not only that though, great makeup also requires great powers of concentration as well as patience. Sometimes clients, or your boss, might be demanding, so the ability to work well under pressure is also important.
Another huge part of being a makeup artist though is having those interpersonal skills. You could be dealing with a celebrity or doing the makeup for someone on their wedding day, each situation has its own demands that you have to deal with. Being open and friendly will not only make it easier for your client, but it'll also make it much more likely that they'll recommend you to someone that they know.
Makeup artist career salary?
Becoming a makeup artist can be a very rewarding career financially, and if you're self-employed then it can give you a lot of financial freedom. A lot of great makeup artists will earn around $30 per hour for their work, with those working in the film industry earning even more at around $40.
When you start out in the world of makeup then you might not be earning those amounts straight away, but the pay will still be decent and the bottom range for makeup artists is comfortably over $20,000 as according to the Bureau of Labor Statistics in 2016 to salary range was from $22,630 to $124,960 with the huge difference being due to the level of expertise and experience.
Being self-employed gives you no guarantee on income, but there is also no limit either. Having that freedom will enable you to charge what you want and accept any client that you wish. Not only that, you will have the flexibility to do what you want. With there being no guarantee of income though, you need to make sure you'll be able to earn enough before you take that leap.
What is a freelance makeup artist?
To answer this question, it's best first answering exactly what the word 'freelance' means. To be a freelancer means that you're self-employed and not attached to any particular company as their employee. You might have a contract with a company, but a freelancer will be responsible for their own taxes.
So a freelance makeup artist is one that doesn't have an attachment to any company. The advantages of this are clear as it allows you to do what you want, when you want. You are free to choose any clients that you wish and set your own rates. Also, all the money that you earn is yours to keep, apart from the percentage that you have to give to the government of course.
The disadvantages are pretty clear as well as you won't have that reliable income that you can fall back on. This is obviously a risk as if you don't have any clients, then you won't have any money. If you're confident that you can make it as a freelance makeup artist then the rewards can be huge, as you don't have any limits and can achieve anything that you want.
Follow your dreams
With any industry, following your dreams isn't something that's going to be easy. When you think of huge celebrities like Beyoncé or Taylor Swift they didn't get their dream job without a lot of hard work and being an unknown before they were famous. If you work hard enough then you will be able to make a career for yourself and maybe one day then you'll be doing the makeup for the likes of Beyoncé and Taylor Swift.
The start of the journey though is knowing what you are doing. To become a makeup artist you need to be taught in all the aspects of it. To do that you either need to go to a beauty school, a beauty course in a classroom or take up an online beauty course. Getting that certificate can be the first ticket you need to become a well-known makeup artist.
From there you'll be able to go into employment or work for yourself. The opportunity to become a makeup artist has never been easier, as there are numerous routes and no barriers to stop you. That means though that the competition has never been greater. You can be better than the rest though as long as you work hard and take everything you've learned on board. So it's time to get out there, take a course, get certified and become the best makeup artist that you can be.